The Temple of Dawn(Wat Arun)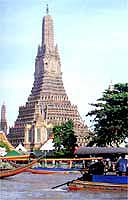 Rising majestically on the western bank of the Chao Phraya River, the Temple of Dawn can be reached from Arun Amarin Road in Thonburi or by boat from the Tha Tien Pier near Wat Pho. The present temple was built during the 19th century on the site of the Royal Chapel of King Taksin, which dates from the 17th century.

Wat Arun's unique feature is its 79-meter pagoda or 'prang', built in the Khmer style, which can be ascended by a narrow winding staircase for fine views over the river. The brick-built prangs are covered by plaster embedded with pieces of broken multi-colored Chinese porcelain. The temple gardens offer respite from the bustling city streets nearby. The temple's main chapel houses a Buddha image said to have been designed by King Rama II and a number of impressive murals dating from the reign of Rama V.

The Temple of Dawn is best viewed from the opposite bank of the river, at sunset or in the evening when it is illuminated by spotlight. Wat Arun is open daily from 8.30 am to 5.30 pm and the admission fee is 10 baht. The ferry from Tha Tien costs only 1 baht.